Convenient Limo Service From Miami International Airport: Relax And Enjoy First-Class Transportation in Luxurious Limousines. Best Airport Shuttle Services For Traveling In Style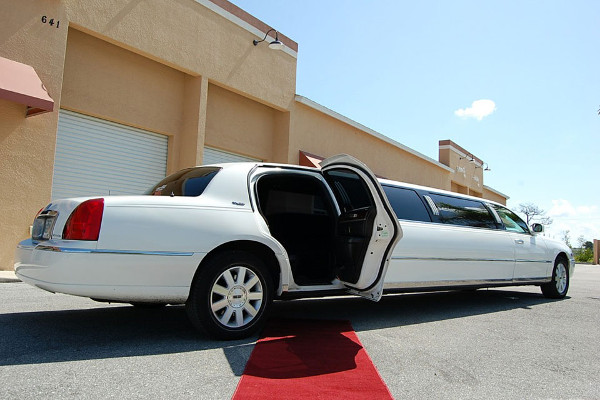 There are several reputable limo services available at Miami Airport. These services offer comfortable and luxurious transportation options to various destinations. It is recommended to compare prices, read reviews, and book in advance for a hassle-free experience.
Book A Limo Service From Miami Airport
Enjoy ultimate luxury and comfort with our top-tier limo service from Miami Airport. Say goodbye to traffic stress and waiting for taxis, and indulge in chauffeur-driven opulence that transforms your journey from ordinary to extraordinary. One standout benefit of choosing our limo service is our team of professional drivers who prioritize safety and satisfaction above everything else. With their extensive knowledge of Miami's streets, you can relax and enjoy the ride without worrying about directions or parking. Our drivers are committed to ensuring timely arrivals in style, making sure you get to your destination on time, every time. Convenience is key when traveling with us. From the moment of landing, we provide seamless assistance from baggage claim to your luxurious vehicle. No more struggling with heavy suitcases or navigating crowded airports – we take care of everything so you can focus on enjoying your trip. Our fleet of pristine vehicles comes equipped with modern amenities like Wi-Fi and entertainment systems, guaranteeing a sophisticated travel experience unlike any other. Arriving in an elegant black car adds an extra touch of class and sets the stage for a memorable visit to Miami. Go and see the beach in style!
In Summary;
Enjoy unmatched comfort throughout your journey with our chauffeur-driven limos. – Our professional drivers prioritize safety and timeliness above all else. – Experience stress-free door-to-door transportation. – We are respected providers offering impeccable vehicles with state-of-the-art amenities. – Don't bother with a taxi, bus, or shuttles, arrive at your destination stylishly while adding sophistication to any trip. Choose us for an exceptional travel experience that combines convenience, elegance, and peace of mind. Contact us today to book your next airport transfer or any other tour guide needs in Miami!
 Choosing the Right Limo Service
Choose the perfect limo service for your Miami airport transfer. When booking transportation, find a reputable and stress-free provider. Here are the key considerations:
Reputation: Look for an excellent company with positive online reviews and testimonials to ensure reliability and customer satisfaction.
Fleet Assessment: Evaluate their vehicle options, ensuring well-maintained, modern, and luxurious vehicles that fit your preferences.
Pricing: Seek competitive rates without compromising on quality or safety standards by comparing quotes from different providers.
Customer Reviews: Gain confidence by exploring customer experiences on platforms like Google or Yelp to gauge overall satisfaction levels.
Safety Measures: Inquire about safety protocols such as background checks for drivers and regular vehicle maintenance to adhere to local regulations.
Additional Services: Consider extra amenities like Wi-Fi access or onboard refreshments to enhance your experience. By evaluating these factors, choose a reliable limo service provider that meets all your requirements and transforms your trip into something extraordinary
The Top Limousine Models Available for Airport Transfers
Choose our luxurious limousine models for Miami airport transfers and experience the ultimate in luxury. Our cars offer comfort, style, and sophistication to exceed your expectations. We have a variety of options to suit different needs:
Sedans: Perfect for solo travelers or small groups, our sleek and elegant sedans make a statement upon arrival.
 SUVs: If you need more space or are traveling with a larger group, our SUVs provide ample room without compromising on style or comfort.
Stretch Limos: For those seeking ultimate luxury, our stretch limos offer extra legroom, mini-bars, and entertainment systems.
Party Buses: Want to celebrate a special occasion or have an unforgettable ride? Our party buses come equipped with state-of-the-art sound systems, disco lights, dance floors, and wet bars in some cases – turning your journey into an incredible party experience on wheels.
Rest assured that each of our limousine models is meticulously maintained by reputable providers in Miami's transportation industry. Every detail has been carefully considered to enhance your overall experience – from plush leather seating to climate control features ensuring optimal comfort throughout your trip. Whether you prefer classic elegance or modern extravagance, we have the perfect limousine model for you when booking from Miami airport. Elevate your travel experience from ordinary to extraordinary with one of our top-notch vehicles. Sit back, relax, and indulge in the luxurious amenities while our professional chauffeur takes care of all your transportation needs.

Making Reservations
Indulge in luxury and convenience with our Miami airport transportation service. Our experts will seamlessly handle all the details so you can create unforgettable memories in vibrant Miami. Follow these steps to reserve your limousine:
Research reputable limo service providers in Miami with positive reviews and a proven track record of excellence.
Consider your unique requirements – we have a wide fleet that can accommodate any party size.
Provide flight details and pick-up/drop-off locations for tailored transportation arrangements.
Communicate any special requests or additional requirements – we aim to exceed client satisfaction.
Double-check all details before finalizing your reservation for accuracy. Our professional chauffeurs prioritize safety, comfort, and local route insights. We closely monitor arrivals/departures, ensuring a seamless experience. With competitive rates and transparent pricing structures without hidden fees, trust us for excellent value.
Booking is easy – call or visit our website where our friendly team is available to assist you every step of the way. Let us take care of your transportation needs while you relax and enjoy the beauty of Miami as a passenger. Book today for an exceptional experience!
What to Expect on Arrival at Miami International Airport
Enjoy a stress-free arrival at Miami International Airport with our top-rated limousine service. Let us handle your transportation, ensuring a memorable entrance into Miami without the hassle of unreliable options or taxis. Here's what makes our limo service stand out:
Personalized Greeting: Upon arrival, one of our professional chauffeurs will await you at the airport with a sign displaying your name or logo. This personal touch ensures a warm welcome and a smooth transition from flight to ground transport.
Easy Baggage Assistance: Our dedicated chauffeur will help you with your luggage, ensuring safe loading and unloading from the vehicle. Say goodbye to struggling with heavy bags – we've got it covered.
Unmatched Comfort: Step into our luxurious limousine and experience unparalleled comfort during your journey. With plush seating and spacious interiors, relax and unwind after a long flight while enjoying complete privacy during your drive.
Enhanced Experience: Our service goes above and beyond to enhance your travels by offering amenities such as Wi-Fi connectivity, entertainment systems, refreshing beverages, and private partitions in our limousines. Sit back, indulge yourself, and savor every moment of the ride.
Expert Drivers: Our experienced drivers have extensive knowledge of Miami's roads and traffic patterns to ensure timely arrivals at your destination. Rest assured that you'll be getting to your desired location efficiently without unnecessary delays.
Safety First: safety is always paramount. We regularly maintain our vehicles for optimal performance on every trip. Additionally, all our drivers undergo rigorous training programs to possess exceptional driving skills and road regulation knowledge. Choose us for reliable airport transfers prioritizing convenience, comfort, and safety above all else. Contact us now for booking information – experience the best limousine service in Miami
Frequently Asked Questions about Booking Limo Services from Miami Airport
Book a limousine service for your transportation needs at Miami Airport and enjoy ultimate convenience and luxury. We provide all the information you need to make your journey extraordinary:
How much does it cost? – The price depends on factors like vehicle type, distance, and additional services. Contact us for an accurate quote.
Are there hidden fees or taxes? – We have transparent pricing, but local taxes may apply.
What vehicles are available? – Choose from our luxurious fleet of sedans, SUVs, stretch limos, and more.
Can I make special requests? – Absolutely! Let us know your preferences during the reservation process.
Is there a cancellation policy? – Yes, details are in our terms and conditions on our website.
How far in advance should I book? – Book early to secure availability and your preferred vehicle choice.
Can I request a specific driver? – While we can't guarantee it due to scheduling logistics, we'll accommodate preferences when possible.
What if my flight is delayed or arrives early?- We monitor flights closely so that reasonable waiting time is provided at no extra charge for smooth pickup/drop-off.
Do you provide child seats in the limos? – Yes! Mention this requirement during booking for a suitable seat at no additional cost.
How do I contact customer support?- Our 24/7 customer support team can be reached by phone or email through our website. Contact us directly for further assistance with booking a limousine service from Miami Airport. Your journey will be extraordinary!